"Our unmatched hospitality, spacious rooms, progressive food and beverage, and multiple meeting spaces with natural light enable us to stand apart from the competition" : Vishrut Gupta, GM, Novotel Mumbai International Airport
Asmita Mukherjee | Mumbai
Vishrut Gupta, a dynamic General Manager with over two decades of extensive experience believes in creativity and a guest-centric approach. Gupta has recently taken the reins of the newly opened Novotel Mumbai International Airport. In a candid conversation, Gupta opened up about the elements the team at the hotel is working on to make sure the hotel is well received by the travellers.
Sharing an overview about the launch activities, Gupta informed, "We started our journey in May 2022 and since then we have been enthusiastically working towards the successful opening of the hotel. Novotel Mumbai International Airport is a new-age hotel, designed as the abode of comfort, magnificence and a very contemporary address. In our words, our guests find it very comfortable to be our guests."
Speaking about the rooms that the hotel offers, Gupta said that the newly launched hotel offers 268 keys, designed in a modern contemporary style. In a city like Mumbai, we are offering 34 square metres of rooms which are very spacious and are almost the best in class in our vicinity. He also included that being in an AAA location is always a plus point for the hotel; however, to make the most of it, they had to add a lot of things to the list to be in the competitive market. "As we deal with hyper-connected travellers, we need to ensure the thoughtful product and design our offerings around it. In line with that, we have introduced Wi-Fi 6 at our hotel. We are amongst the first hotels in the country that is on Wi-Fi 6, which is the next-generation wireless standard. In my opinion, these small things have great impacts on the guests.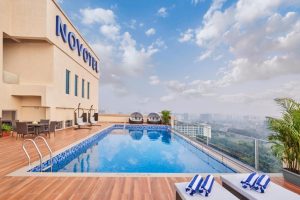 Another aspect that we built into the DNA is to have sustainability at the core of everything we do. One of the first steps was to ensure single-use plastic-free guest rooms to multiple reviews and alternatives to sustainable sourcing in F&B venues."
Novotel Mumbai International Airport, which is now in its second month of operation, has already started getting a good response from the MICE segment. Gupta added that after the pandemic the resurgence of the industry and the bounce back of the MICE events has been phenomenal. He also informed that the hotel has already hosted quite a lot of leadership workshops, trade dinners and social functions.
Being located next to the airport and in the commercial hub of Mumbai, the hotel receives a lot of transit guests, informed Gupta. "The hotel receives a lot of corporate and transit guests, whose average length of stay at our hotel is around 2 nights."
Speaking about the business mix that the hotel is receiving, Gupta shared, "F&B is a very significant driver of our business along with MICE. Our 3 F&B venues are thriving since they opened. Our Culinary team and Beverage team keep on challenging themselves to reinvent, as we believe there should always be a surprise element in the F&B segment for our guests." Informing about the biggest revenue streams of the hotel, Gupta said, "Rooms are obviously our largest revenue stream, followed by F&B, Catering, and Wellness. Also, we get a noticeable chunk of the revenue from our ancillary services such as transportation and laundry services. However, 60-65% of our revenues come from room revenue. As we have opened very recently, our RevPAR and Occupancy levels are trending positively."
While commenting about what differentiates the hotel from its competitors situated in the near vicinity, Gupta stated, "Our unmatched Hospitality, Spacious Rooms, unique F&B offerings, Meeting Spaces, one of its kind Rooftop Bar and Curated Experiences for our guests makes us stand apart from the competition."