'district150 offers a comprehensive, premium hospitality experience with its array of meeting rooms, event spaces, and breakout areas'
Amidst the bustling world of commercial real estate and hospitality, Vivek Narain emerges as a visionary force with district150 and The Quorum. district150, his brainchild, is a game-changing lifestyle-focused, hospitality-powered, multipurpose meeting and events hub, revolutionizing the conventional concept of office spaces. With a unique amalgamation of business and hospitality, Narain's concept is set to reshape the future of office buildings, seamlessly integrating work and play. In a conversation with Asmita Mukherjee, Vivek Narain, Founder & CEO, district150 & The Quorum shares insights on the maturity of the Indian market for this innovative concept and the overwhelming response it has garnered so far.
Traditionally, the MICE (Meetings, Incentives, Conferences, and Exhibitions) industry in India heavily relied on hotels for meeting and event venues. However, district150 disrupts this norm by ingeniously leveraging under-utilized office buildings to cater to a wide array of business and cultural events. Narain explained the concept, stating that district150 merges hospitality and office spaces. "Observing and tracking real-world trends helped us identify the need for a space & concept like district150; a lifestyle-focused, hospitality-powered, multipurpose meeting & events hub designed to revolutionise the future of the office building.
It is conceptualised to encourage a reset in the way we work and engage. There is now a higher emphasis on amenity rich, experiential offerings in commercial buildings. Built to catalyze the power of networks, district150 embraces the trend of 'working from anywhere' by creating versatile workspaces that integrate head-down work, collaborative zones, social spaces, and meeting rooms under one roof.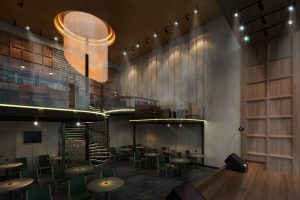 Furthermore, district150 believes that office buildings can serve as social and cultural infrastructure beyond work hours. Energising these spaces during evenings and weekends, the hub aims to transform them into vibrant social hubs, providing tenants with a more comprehensive experience. This forward-thinking approach challenges the traditional MICE industry norms in India, as district150 leverages under-utilized office buildings for business and cultural events, presenting a fresh and innovative perspective to the industry."
Narain emphasised the significance of the hotelisation of office spaces, stating, "Traditional venues have been unable to reimagine themselves to cater to the current audience's needs for differentiated spaces. The aim with district150 is to address these limitations and challenges, and provide an infrastructural solution with a fresh approach to event planning and execution.
At district150 we provide purposefully designed, versatile spaces coupled with modern amenities, technology, world class hospitality and a team of expert event curators who help our guests plan & execute top-notch events, whether corporate or social."
With a unique blend of business and hospitality, district150 has set out to reshape the future of office buildings, particularly in the MICE (Meetings, Incentives, Conferences, and Exhibitions) segment. In India, the MICE industry conventionally relied on hotels for event venues. However, district150 disrupts this norm by tapping into under-utilized office buildings, breathing new life into them to cater to diverse business and cultural events.
Narain's "hotelisation" concept elevates the experience for event organizers and attendees, with prime locations, ample parking, and excellent connectivity. As district150 spearheads this transformative evolution, the MICE segment in India opens doors to endless possibilities for the future of business gatherings.
With the rising demand for office spaces equipped with hospitality-grade amenities, district150 emerges as a leading player in meeting this requirement. Narain highlighted the remarkable offerings of district150, stating, "district150 offers a comprehensive, premium hospitality experience with its array of meeting rooms, event spaces, and breakout areas.
The facility comprises various multifunctional spaces, including The Stage, a tiered hall for learning and performances; The Dunbar Room, a pillar-less events space with top-notch AV and acoustics; The Cove, a relaxed event space for casual gatherings; The Grid, a content creation and media center with screening and podcast recording capabilities; Maker150, a Deep Work zone for solopreneurs; and NETWRK, meeting and conference rooms for both in-person and virtual interactions.
Moreover, district150 houses ZILA, a progressive Indian restaurant, and SUBKO artisanal-coffee program & chocolate cellar. With an in-house event planning and production team, the hub ensures a seamless experience for clients, from customized menus to digital signage for branding. Overall, district150 goes beyond mere room rentals, striving to create unforgettable experiences for its guests," he added.
Narain further elaborated on the brand's strategy to capitalise on The Quorum's programming expertise, aiming to create an unforgettable experience for district150's clients and visitors. He highlighted The Quorum's profound impact on culture since 2018, driven by its diverse programming across various genres.  "Since its inception, we have put together over 2,500 experiential events for our members. Since district150's hospitality & events offering is powered by The Q, we will bring that same degree of quality and overall curation to its programming too."
Elaborating on their investment plans, he added, "Our current investment stands at INR 16.5 crores. However, we have ambitious expectations to invest between INR 150-200 crores in scaling it over the next few years."
District150 is set to make its debut in Hyderabad's Knowledge City, but the brand's ambitions reach far beyond. Narain said that the vision is to establish multiple locations in prominent Indian cities such as Mumbai, NCR, Chennai, Kolkata, and Pune in the near future. "d150 aims to become a prominent amenity block for commercial real estate properties. Looking ahead, the long-term vision entails having 8-10 locations across major metropolitan cities in the next 5 years. But the prospects are even more substantial, with the concept poised for international scalability," he concluded.
asmita.mukherjee@saffronsynergies.in